NAME: Dr. ███████ Bush
SECURITY LEVEL CLEARANCE: Level-1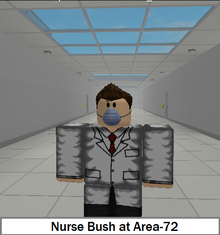 NATIONALITY: American
AGE: ██
INTELLIGENCE QUOTIENT: ███
PERSONALITY TYPE: ████-█
OCCUPATION(S): Nurse
LOCATION(S): Area-72
PREVIOUS LOCATION(S): Null
STATUS: Active
______________________________________________________________________________________________
HISTORY: Dr. Bush joined the Foundation on █/█/████. He became a Level 1 shortly after being a Level 0. He quickly was introduced to the medical field where he remained employed to this day. He has currently responded to five containment breaches. Dr. Bush has been appointed as the executive on-site nurse of Area-72 and was been placed in charge of the Medical Bay on █/█/████.
PROFILE: [REDACTED]
______________________________________________________________________________________________
NOTES: Dr Bush is a new member of the Foundation, and doesn't actually know what the hell he's doing. Dr. Bush is now a Senior to the Foundation and still doesn't know what the hell he's doing.
Ad blocker interference detected!
Wikia is a free-to-use site that makes money from advertising. We have a modified experience for viewers using ad blockers

Wikia is not accessible if you've made further modifications. Remove the custom ad blocker rule(s) and the page will load as expected.